WestWorks has successfully completed hundreds of residential, commercial, industrial, and public sector projects. Here are a few samples:
Spring Creek
Traditional Neighborhood Development, Colorado Springs, CO
This live/work neighborhood features mixed use office/commercial/retail centers, medium density residential (incl. brownstones), multi-family residential, and park space. Residential lots feature alley-access garages leaving a front porch lined streetscape. WestWorks services included entitlement management, site grading, utility feasibility studies, erosion control, stormwater master plan, utility infrastructure, and roadway design.
Vistas at Jackson Creek
Apartments, Monument, CO
This 267 Unit Multi Family Project is the first of its kind in Monument, Colorado. The HUD finance reviewer stated: This is the fastest processing I can recall in a long time, [sic] credit needs to go to Chad at WestWorks [sic]. WestWorks services included land planning, site layout, entitlement management, ADA accessibility route design, site grading, erosion control, regional stormwater master plan, detailed site drainage study, utility infrastructure, and roadway design.
Mountain Metro Transit Facility
LEED Certified Public Transit, Colorado Springs, CO
This pubic transportation facility is the first LEED certified project owned by the City of Colorado Springs. WestWorks provided site design, grading, erosion control, utilities, and incorporated LEED design standards for stormwater quality & quantity, grading to limit disturbance, and site layout to maximize open space.
Sky Sox Stadium
Triple A Baseball Affiliate, Colorado Springs, CO
WestWorks provided site grading, utility, and storm drain design to expand and renovate the existing baseball stadium for this Major League Baseball affiliate team. The renovation included a new 26,800 SF clubhouse, patio seating, and banquet facility.
Jackson Creek
Master Planned Community
, Monument, CO
Jackson Creek is a 1,200-acre mixed-use Master Planned Community. WestWorks provides ongoing services to the master developer. Our projects include more than 500 single-family residential lots, collector road infrastructure, regional detention facilities, multi-family, and office/commercial/retail sites.
Tanner Ranch
Rural Residential Subdivision, El Paso County, CO
For this 480-acre low-density, large lot, rural residential subdivision WestWorks designed a stormwater conveyance system utilizing natural drainage ways, roadside ditches and swales to direct stormwater into a series of water quality detention facilities.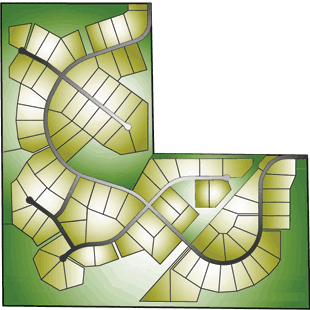 Taylor Farms
Colorado Springs, CO
*Ranked #1 largest industrial project in the State of Colorado for 2005 by Colorado Construction Magazine.
Taylor Farms is an 83,000 SF produce washing and processing facility with 16 loading dock bays located on a 7 acre industrial site in Colorado Springs, CO. WestWorks provided project planning and site civil engineering services for the project.
Mesa Village
Mixed Residential, Fountain, CO
This project includes more than 500 residential units including single-family, town homes, patio homes, cluster housing and assisted living. Initial grading analysis of the client's project determined the street plan and lot layout did not work well with the steep topography of the area and resulted in the need to haul more than 700,000 cubic yards of dirt off of the site.

By revising the site layout of lots and roads, we were able to get the site earthwork to balance. This resulted in client savings of approximately $3,000,000 without losing any lots.